What does the stoic reserve clause and whistleblowers share in common?
Hupexhairesis is the stoic reserve clause meaning to undertake any action while accepting that the outcome isn't entirely under your control. A stoic minded archer's true goal is to fire his bow skilfully knowing he controls his aim but not the arrow's flight.
I was reminded of this when recently called upon to join two other South African whistleblowers, Mike Tshishonga and Athol Williams, to provide support to William Crichton, a legal student who had blown the whistle on his principal whilst performing his articles as a clerk
Imagine the scene; you're twenty-six years old studying to become a lawyer and whilst performing your vocational training studies, you uncover that the director, himself an attorney, who you're under the direction of, is committing fraud.
If vocational training is about learning the practicalities of being a legal professional, this moral dilemma moment is William Crichton's baptism of fire.
William's discovery was that his principal, Mr Supra was instructing candidate attorneys to add fictitious entries into the bills of costs in order to increase the maximum claimable fee from the Road Accident Fund. Mr Supra would then pay out a lesser amount to the victim of a road accident, bagging the balance for himself.
William was acutely aware that this was an offense worthy of being struck from the Roll of Legal Practitioners in addition to knowing that  Supra's actions were also a criminal offence. On reflecting on this moment he says, "…I felt morally and legally obliged to disclose this information but was at a true impasse about whom to approach, as it was imperative that action be taken against this conduct"
Like many practising the law, the space legal professionals regularly occupy is a "grey area" as most laws, cases, or regulations fail to offer a "bright line" rule.  William was aware that any disclosure would be in violation of the Rules of the Legal Practice Council. He did not want to directly flout these rules but instead, with such a sensitive matter on his hands, William wanted to act with the reasonable care and concern expected of an individual in his circumstances. He shares "My conduct was in the interest of justice and was in fact expected of me by both the law and my duty as an aspirant legal practitioner"
Not knowing where or how to disclose is a common obstacle but William was aware that the South African Protected Disclosures Act (PDA) does provides the notion of protection if he reported to the media.

After searching online, William came across Tony Beamish, a stalwart investigative journalist and lawyer. It's Aug 2019, one month after William has resigned Mr Supra's employers, Schoeman van den Heever and Slabbert Attorneys, and William sends out his first communication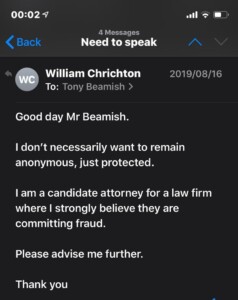 As a South African whistleblower myself, reading William's first reach out message reminds me of the strength of courage required, the willingness to go unheard, the preparedness to be shot down, literally, in the name of doing what's right and fair and just. It's a moment of pure terror.
 
Whilst Tony provided a safe place for William to share his discoveries, Mr Supra became increasingly hostile.  As a result William suffered the detriment of being held hostage by Supra, who attempted to solicit evidence from him in return for his consideration and required affidavit articulating that William was a fit and proper person to be admitted to the legal bar. This was a big deal, for without this affidavit, William would not be allowed admission into the legal profession.  See Supra's comment via letter to William below:

As William responds, the tensions rise:
By the way, there is no 'we' as purported by Mr Supra, only Mr Supra himself, in an increasingly tight corner.

Remember that William's initial disclosure is in Aug 2019, with Mr Supra becoming aware of his disclosure in March 2020. Testy and contested communications darted back and forth between them as a result, and over a period of eight months between March and November.  Mr Supra, possibly recognising that his own position and reputation was now under threat, added a further obstacle, and therefore detriment to William's goal of being admitted to the legal profession. In Nov 2020, sixteen months after William resigned from Schoeman van den Heever and Slabbert Attorneys, and eight months after Mr Supra became aware of William's disclosure, William is reported by Supra to the disciplinary committee of the Legal Practice  Council (LPC) for misconduct.
 
Imagine the extreme anxiety and stress for William, when one month before the date of his admission, with still no affidavit confirming his good character, he is informed by the LPC that a complaint of misconduct has been raised against him, further scuppering any chance of him becoming an attorney?  See William's response below:

I want to pause right here, to remind readers, that this is what it takes. Being a truth teller, acting on your principles, doing the right thing, acting for the common welfare of mankind, whistleblowing, are virtues consisting of doing your very best and yet not becoming upset if your message, your intentions don't land accordingly.  Whistleblowers know that it's precisely the action of pursuing the common good that constitutes the virtue of justice. Aiming your intentions high is what counts, both morally and psychologically.
Two weeks prior to William's admission the LPC respond, and it's certainly not a response that lands well for William. 

With the strength and fortitude of Hercules, the mythic hero who faced hardship believing it cultivated strength of character, William pushed on. Thankfully, five days after the threat of needing to remove his application for admission, and eight days before admission, the LBC confirmed that after an investigation, there was indeed no case of misconduct for William to answer . William's admission to the bar could proceed without any obstruction.
But, without the required affidavit, would the sitting Judge be convinced to admit William?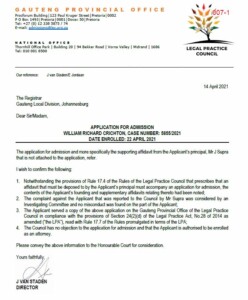 A battle for the truth lasting one year and eight months isn't too bad a timeframe for a whistleblowing conclusion, my own war of attrition lasted for eleven years. I credit this to William's tenacity, Tony's wisdom and genius in inviting us three whistleblowers to observe proceedings and have oversight, and Advocate Reg Willis' rhetoric accompanying the 290 pages to William's supplementary affidavit in High Court of South Africa for admission and enrolment as a legal practitioner of the High court of South Africa.
Most of all, I credit Judge Eberhard Bertelsmann for standing with and by whistleblowers, reminding new legal recruits that entering the legal profession is 'no easy matter', that blowing the whistle is not an easy decision to make, and more.  His urging of them to not flinch from taking the ethical route, to choose the truth and constitution above gain, personal gain, and 'worst of all, money'. Judge Bertelsmann speaks of the path of virtue, exercising self discipline and following true values in life.
This is what Tone from the Top looks and sounds like
Watch my 12 minute summary video of this watershed day:
From the start to 4 minutes – watch and listen to Advocate Reg Willis introduce us three whistleblowers and speak about South Africa's PDA; 
From 4.13 minutes watch and listen to Judge Bertelsmann call out for, and receive an immediate and online public commitment from an attorney from Mr Supra's firm, to acknowledge that William will no longer be exposed to  further complaints and detriments;
From 6.57 minutes watch and listen to Advocate Reg Willis remind everyone that it was because of William's good character that he blew the whistle and the Judge's admission of William as an attorney;
From 09.00 watch and listen to the Judge reiterating that it's democracy, hard won democracy that is at stake when we remain silent.  (my personal best!)
Thank you M'Lord